Australian Hand Therapy Association NSW Interest Group meeting at MGS Physiotherapy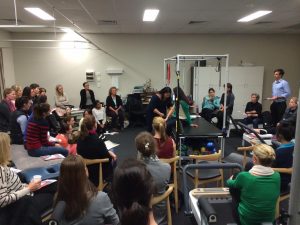 Last Tuesday evening the Australian Hand Therapy Association NSW Interest Group meeting was hosted by MGS Physiotherapy. 
These meetings happen every 2-3 months and are a source of continuing professional development for members and associate members of the Association (non-members are welcome to attend for a fee).  The meetings vary in their content, from Surgeons presenting about injury management and surgical developments and research, to therapists presenting topics of interest and recent research, to practical sessions, we've had a meditation expert speak in the past.
This particular session was presented by Jenny Wu, a representative of Patterson Medical, who are the distributor in Australia of Dynamic Tape.  Dynamic Tape was developed by Ryan Kendrick, an Australian Sports Physiotherapist. He offers a number of workshops to demonstrate how to use the tape, and has a website www.dynamictape.com.
Patterson Medical in NSW kindly offered to give the AHTA group in NSW a taster session using the tape with key pearls of wisdom for getting the most out of the tape, a number of techniques demonstrated, and lots of practice time for those in attendance.
35 therapists were in attendance for the workshop which is a very large attendance.
Most of the Hand Therapists work in and around Sydney in private practice and public hospitals, but we did have a couple of Therapists who came down from Port Macquarie and Newcastle to join us!
It was a busy and fun evening, giving us some new skills, lots of food for thought and new treatment ideas to assist rehabilitation.
Please contact us if you have any questions about our Hand Therapy services.