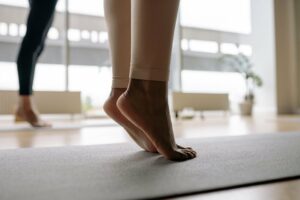 A calf muscle strain is a common injury that occurs in any activity which involves running and/or jumping, whether it's the casual 5km run along the waterfront or the soccer game on the weekend, a calf injury can cause significant disruption to our function and everyday life.
So, is there anything we can do to prevent this happening?
Often when a muscle is strained, we need to consider if the muscle was strong enough to withstand the load placed on it at the time of injury.
A heel raise test (HRT) is a quick and easy functional test we often use in the clinic to look at the plantar flexors (calf muscles) capacity and function. This is because a calf raise is part of the running action, just with added forward momentum.
As calf injuries can often occur in endurance type sports, it makes sense to look at the endurance of the calf muscles not just its maximal strength.
In 2017, Herbert-Losier et al completed a research study with the aim to assess the reliability and normative values of the HRT, plus establish normative equations that account for factors such as sex, age, body mass index and activity level, all which often affect the tests outcome – in simple terms, how many heel raises should a "healthy adult" be able to complete in one go before fatigue?
Via a sample of almost 600 participants' the authors determined the HRT had excellent reliability. This confirms it is a useful test to use in the clinic to track performance over time and if the number drops/changes it is likely to indicate a change in the calf's functional capacity.
Through the results Herbet-Losier also established a formula to evaluate how many heel raises you should be able to do against a comparable normative population group.
As an example:
30-year-old males should be able to achieve approximately 32-33 single leg calf raises on each side and 30-year-old females 26-28 on each side before fatigue.
The study suggested that any less than the normative data could be a predisposing risk for future calf injury… how many can you do?
Side note: the technique of the calf raise is also crucial, pushing up through the big toe without flaring through the ankle and lifting the heel straight towards the ceiling (not using momentum forward).
Hébert-Losier, K., Wessman, C., Alricsson, M., & Svantesson, U. (2017). Updated reliability and normative values for the standing heel-rise test in healthy adults. Physiotherapy, 103(4), 446-452. doi:10.1016/j.physio.2017.03.002
.
Author –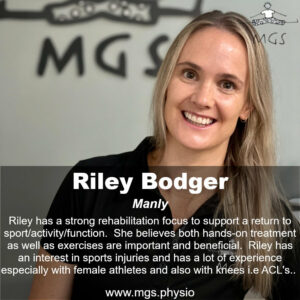 Riley Bodger (MGS Manly)
Riley has a strong rehabilitation focus to support a return to sport/activity/function.  She uses both hands-on treatment as well as exercises, as she believes both are important and beneficial.
Riley has an interest in sports injuries and has a lot of experience especially with female athletes and also with knees i.e ACL's.
Outside of work Riley enjoys spending time with friends and family, loving her weekend coffees and walks with friends. Being by the water is important to her, no wonder she has settled in so well here in Manly.
Click here to learn more about Riley.