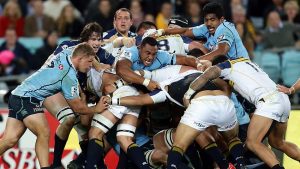 One of the most durable and toughest rugby union players was sidelined instantly in the Brumbies vs Waratahs clash recently when George Smith injured his medial ligament.
Media reports later confirmed that George had sustained a grade 2 medial ligament injury. To see him sitting so passively in the middle of a Rugby pitch is an extremely rare sight for Rugby fans.
The medial ligament provides a lot of support and stability to the inside of this simple 'hinge' joint. Its main partner in providing this stability is the ACL. So apart from the pain experienced when injuring the medial ligament, a grade 2 tear will also give the sensation of the knee giving way, a player can also fear for their ACL as well.
Hence George was unable to continue playing as every time he went to change directions he would have experienced the horrible sensation of his knee collapsing underneath him. Potentially if he had continued playing he could have injured his ACL and required surgery.
Now, thankfully for Wallabies fans, he will be back to continue his excellence on the open side for the British and Irish Lions series.
Doing a Bill Clinton
Doing a 'Bill Clinton' injury conjures up many different images but specifically it refers to the rare phenomenon of a complete rupture of the quadriceps tendon, just above the knee cap.
This injury requires surgery via an open repair and generally only happens to one person in 20 million.
Typically this person is a middle aged male- you've got to love getting older!  Surgery, then being braced for around 6 weeks and doing a programme of physiotherapy from anywhere from 3-6 months is a tall order.
If you had a choice, go for doing a George Smith every time.