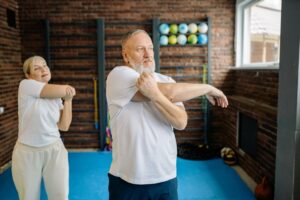 The body changes with aging which comes with concerns about strength, balance and mobility. Resistance training and stretching is a key component to keep you feeling healthy and strong.
Some physical changes with aging include, decreased range of motion, strength loss and decreased balance.
Strength training can benefit older adults by increasing bone density, increasing muscle mass, improving balance/function, improving body composition and improving quality of life.
Mobility exercises are an important key in maintaining joint range of motion. Lack of mobility can lead to injuries and lack of independence.
A physiotherapist can design a home exercise program focusing on strength and mobility.
Author –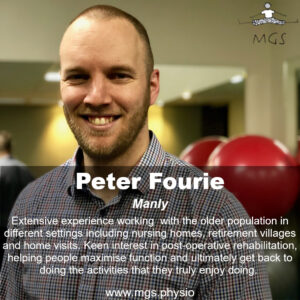 Peter Fourie (MGS Manly)
Peter has extensive experience working with the older population in different settings including nursing homes, retirement villages and home visits. This has provided him with extra tools to help the elderly, from communication to specific exercise programs.
Peter has a keen interest in post-operative rehabilitation. He specifically enjoys helping people maximise function and ultimately get back to doing the activities that they truly enjoy doing. This can range from just going for a nice walk or swim to getting back to a specific competition level of sport.
During lockdown my young family had far less options for activities, it was at this time that we started bushwalking and exploring more of the northern beaches walking tracks such as West Head, North Head and Manly Dam. This has given him a much better understanding regarding the physical and mental requirements to complete longer walks and specifically through the bush.
Peter has completed a lot of strength training over the years in various settings so has a broad understanding of the activity requirements in terms of joint mobility and strength as well as common injuries involved.
Click here to learn more about Peter.