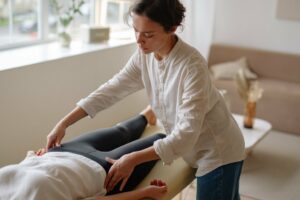 Irritable, angry, clicky, catching, painful, buggered. All are good descriptions of hip pain. Long-lasting hip pain that can't be attributed to a particular injury may well be due to FAI. The idea here is that the hip joint and surrounding surfaces pinch or compress soft tissue structures and create pain. It can affect all ages from adolescents to the elderly. FAI can be present in people who participate in kicking sports (football, AFL), waterpolo, gymnastics and often surfing. It presents as a hip with a reduced range of motion, and pain reproduced with clinical tests. It is associated with hip arthritis, and global experts believe it is a precursor to the early onset of hip arthritis.
FAI has been described from 'five essential elements'
Abnormal morphology of the femur and/or acetabulum (ball and socket joint)
Abnormal contact between these two structures
Especially vigourous motion that results in abnormal contact and collision
Repetitive motion resulting in continuous contact and collisions
The presence of soft-tissue damage.
In clinic, we can assess the likelihood of a FAI diagnosis, refer for a BULK-BILLED X-ray to aid in building the clinical picture and treat using a range of manual therapy, dry needling and exercise programming to improve function.
Physiotherapy has shown to be effective for at least 2 years, but more research is needed to show a role in preventing hip replacements. A recent study in 2021 (hilariously) named the Australian FASHIoN study showed an equal improvement in both arthroscopic surgery and physiotherapy treatment of FAI at 12 months follow up. A similar UK study found surgery to have a greater significant improvement at 12 months follow up.
An initial physiotherapy consult at MGS would include listening to the background and history of hip pain, and a thorough hip assessment. Referring for imaging helps complete the clinical picture, and can help guide treatment and start to improve your hip symptoms and function.
Author –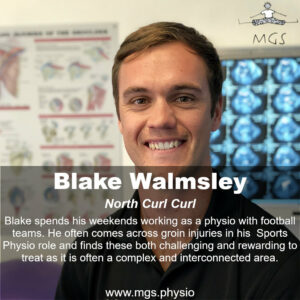 Blake Walmsley (North Curl Curl)
Blake spends his weekends working as a physio with football teams and has done so since he started his Physiotherapy career. He often comes across groin injuries in his current Sports Physio role and finds these both challenging and rewarding to treat as it is often a complex and interconnected area.
Besides being a Dad to one (nearly two) young children, outside of physio and family life he enjoys getting on the water for a distance or surf SUP session. It's hard to get a timeout from my busy life, so finding a break with no one else around is rare on the beaches but with a SUP it's a bit easier.
Click here to learn more about Blake.