Short answer….yes!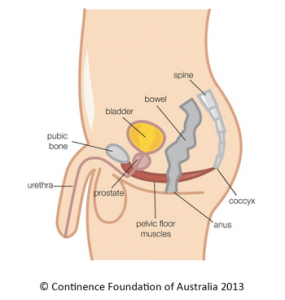 As a pelvic floor physiotherapist, I treat both men and women for pelvic floor complaints, but it is frequently my male patients who are the most surprised to learn they even have a pelvic floor!
So, what exactly is the pelvic floor?
The pelvic floor muscles (PFM) are found deep inside the pelvis. Much like a muscular 'hammock', they extend from the pubic bone at the front to the tail bone at the back and from side to side of the pelvis. The PFM…
Support the pelvic organs
Control the bladder and flow of urine
Control bowel opening (stool & wind)
Help gain & maintain erections
Assist abdominal, hip and back muscles to control movement of the hip joints
What happens if my pelvic floor is not up to scratch?
Like any muscle in the body, the PFM can become weak or tight or uncoordinated or damaged. PFM problems in men can involve:
urine leakage
urinary urgency &/or frequency
problems with urine control after prostate surgery
difficulty controlling wind
bowel leakage
constipation or problems with bowel emptying
pelvic pain (eg of scrotum, penis, anus, groin, abdomen, bladder etc)
erectile dysfunction
How can I find out if my PFM is working properly?
The least invasive way to assess male PFM function is via real time ultrasound (RTUS). This is a simple procedure conducted by your pelvic floor physiotherapist where an ultrasound probe is held externally on the skin. The PFM can then be visualised on screen in real time and assessed 'in action'. RTUS is also an excellent tool to provide feedback for training correct PFM contraction technique.
How can I improve my pelvic floor?
The PFM can be strengthened by special exercises. Like all exercise, PFM exercises are most effective when individually tailored and monitored. However, some men don't need strengthening at all, but rather require relaxation & stretching for a tight PFM. Others may need to work more on PFM coordination. An accurate assessment by a pelvic floor physiotherapist experienced in assessing and treating men is a great place to start to journey of improving your PFM function.
Written by:
Liane Fenwick APAM
Pelvic Floor Physiotherapist – MGS Physiotherapy (Mona Vale & Manly)
B.App.Sc (Physiotherapy)
Grad Cert (Pelvic Floor Physio)
Prof Cert (Prolapse Management)
Grad Cert (Exercise & Women's Health)
Grad Cert (Nutrition)
Grad Dip (Ergonomics)