We have recently welcomed two new members to our team.
Riley Hoare – Manly & Mona Vale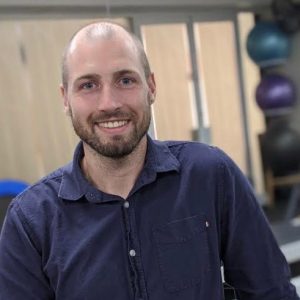 Riley is a graduate of Macquarie University's Doctor of Physiotherapy program, graduating in 2017. He grew up in Chatswood but spent his life travelling down to the beaches to come for a surf. He finally made the long-overdue move to Manly in 2017 and hasn't looked back since.
Like most of us here at MGS, Riley enjoys an active lifestyle. He is an avid rock climber, and you will often find him enjoying a cup of tea while working on a bouldering problem at the local climbing gym. He enjoys spending his weekends going for a surf or going climbing outdoors, and in winter he will take any chance he gets to head to the mountains to go skiing. In his downtime, he enjoys relaxing on the beach reading a book, doing yoga or cooking up a delicious veggie meal.
Riley has experience across a broad spectrum of physiotherapy settings. He has worked on in-patient and out-patient rehabilitation wards where he helped people recover from major traumas and neurological events and has been the sole physiotherapist on Australia's only cancer-specific rehabilitation ward. Riley has a keen interest in the human body and using functional movement patterns to heal disfunction, and takes a practical and functional approach when treating his patients.
Riley is available for group rehabilitation classes at our Mona Vale practice on Tuesdays, Thursdays and Saturdays. If you see him around please come and say hi!
Elliott Lang – North Curl Curl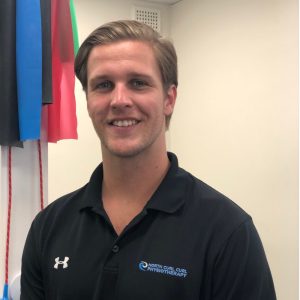 Elliott is one of our most enthusiastic musculoskeletal physiotherapists who has an extensive background competing and coaching in elite sport and carries his passion for optimal performance and biomechanics into the treatment room.
He completed his Bachelor of Exercise and Sport Science and then went on to complete his Master of Physiotherapy, both at the University of Sydney. After training for years as a javelin thrower he was rewarded with several state and national titles and also the opportunity to represent Australia on several occasions.
His passion for physiotherapy, however, was originally sparked through injury when he underwent elbow reconstructive surgery in the hope of keeping his throwing career alive. He later came back to win the NSW title and narrowly missed out on qualifying for the Commonwealth Games. This among several other injuries has given Elliott a deeper empathy and understanding of clients and their recovery from injury.
He has a keen interest in musculoskeletal injuries of the shoulder and lower back and uses his knowledge and personal experience to provide a targeted rehabilitation approach which balances manual therapy with functional exercise to help his clients achieve optimal results.
Before joining the team at MGS, Elliott has worked for years at private practices in the North Shore and Sydney's Western Suburbs where he honed his skills diagnosing and treating a wide variety of conditions and injuries. He has also continued to further his skills with working with the Sydney Roosters NRL team, completing Sports Physiotherapy and Dry Needling courses and working as a Strength and Conditioning coach.
If Elliott isn't working he will probably be found at the beach, in the gym or out on the golf course trying to hit the perfect drive. Elliott loves it so much over on the beaches he is hunting around for some real estate in our patch to call his very own piece of paradise.
Click here to learn more about all our team members.