As you are all aware, the COVID-19 situation has improved dramatically over the past few weeks. We are still following directions from the government and continue to implement our stringent infection control measures for COVID19. All equipment, hard surfaces are meticulously sanitised between each patient, staff and every patient are temperature tested before coming in for treatment. Visiting MGS for your Physiotherapy needs remains a safe environment.  If you have any concerns or questions, pls call our reception team.
Direction from The Department of Health
The health industry response to the changing climate is directed by the department of health.  There is real-time communication to us regarding the actual threats and areas of concern for this virus.
Training and procedure make physiotherapy clinics safe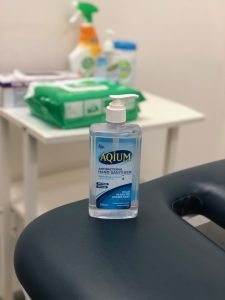 Physiotherapists are very well trained for dealing with infection control.  As a result, you will find that all physiotherapy clinics are extremely well prepared for dealing with the general public.  Health clinics are some of the safest environments that you can visit.
In any of our three clinics, there is very little chance that you will touch something that has not just been completely cleaned.  People with any symptoms are asked to stay away for now, although we are able to help those people remotely if required.
Before anyone walks into our treatment rooms, the room is thoroughly wiped down.  The physio will clean their hands and forearms before and directly after your visit.  This is normal practice for us; however, we have intensified this process in recent weeks to include things like doors, pens and keyboards. We also ask all visitors to clean their hands as they enter the clinics, and each patient has their Temperature taken before they enter the treatment rooms.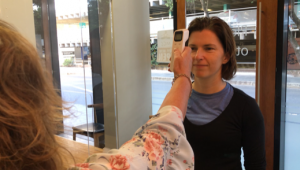 What if I am still concerned about coming in?
Don't hesitate to give one of our friendly staff a call to discuss your concerns. Telehealth options do exist to enable your Physiotherapist to conduct a Video or Phone Consult if you would prefer this option. Reception staff can pass on your concerns to your Physiotherapist who would  be happy to touch base with you and discuss your options.
So, it will be business as usual for MGS Physio
If you have any concerns about visiting, please call us to discuss, we will be happy to talk to you.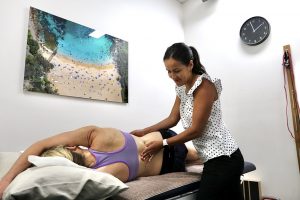 You can make booking online by visiting www.mgs.physio
or by calling
Manly                     9976 2666
Mona Vale              9979 6978
North Curl Curl      9905 3500