We are excited to announce that MGS Mona Vale has finally found a new home for 2016 onwards. After lots of research and looking around Mona Vale and even neighbouring suburbs, we have ended up deciding to move 4 shops away from our current rooms, remaining within the same centre.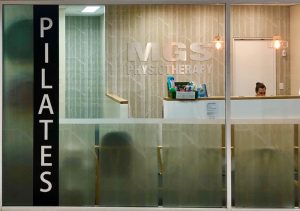 Number 20 Bungan Street  known as Peninsula Plaza or the Delmege Building by locals) has long developed a reputation for Professional suites with a large range of medical specialists as well as Accounting, Legal firms and commercial enterprises. There are  future plans to re-furbish the Shopping Arcade, modernising the current centre. Patients will still have ample parking underneath the building , or a range of parking options out in the street if they choose to do some extra shopping or to grab a coffee or lunch.
We have been fortunate enough to once again secure the services of our talented Commercial Builder Dylan "Stonetree Constructions" who did such a fine job in our MGS Manly rooms.
These first photo's don't really give the place much justice, but it can only look better than this from here on. The new rooms will provide a high class treatment facility , also offering Clinical Pilates and Rehab classes, as have been ever so popular in our Manly rooms.
The plan is to be open for business in the new rooms at Shop 2 in the first week on Jan 2016. This is going to be a challenge with the race to Christmas hotting up each day, but who doesn't love a challenge?
Watch this space and the odd facebook post to keep up with the progress.
In the meantime, it is business as usual at Shop 14.