Recommended exercises for people with osteoporosis 
Bones respond well to heavier loads and frequent stimulation especially in weight-bearing positions. Exercises that are good for people with osteoporosis include:
weight-bearing aerobics exercise such as walking, jogging, and dancing.
strength training using body weight, resistance bands, free weights, or weight-training machines. Make sure you include upper and lower body strengthening exercises.
exercises to improve posture and balance such as tai chi.
Ideally, regular physical activity should include something from all three groups.
Exercise people with osteoporosis should avoid
A person with osteoporosis has weakened bones, including those of the spine, making them more susceptible to fractures. They should avoid activities that:
involve loaded forward flexion (forward bending) of the spine such as abdominal sit-ups.
require forceful and/or repetitive twisting motions, such a golf swing, unless the person is used to doing them.
increase the risk of falling.
require sudden, forceful movement, unless introduced gradually as part of a progressive program.
Remember that almost all exercises can be modified to suit your body's needs and abilities so consult with your physiotherapist to be guided in your choice of exercise and ensure you stay active!
Author –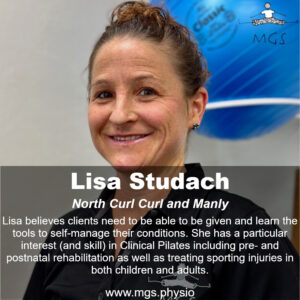 Lisa Studach (North Curl Curl & Manly)
Lisa likes a mix of hands-on treatment and exercise prescription.  She believes clients need to be able to be given and learn the tools to self-manage their conditions. She has a particular interest (and skill) in Clinical Pilates including pre- and postnatal rehabilitation as well as treating sporting injuries in both children and adults.
Click here to learn more about Lisa.