Sophie explains the benefits of pregnancy shorts and recovery shorts, that are designed to help support a woman through pregnancy.
These pregnancy shorts provide abdominal support, pelvic and gusset support and leg support.
The recovery shorts provide support for both vaginal delivery and caesarian.
There is a short and long version and are designed to wear under your clothes.
MGS has stock of both of these in their clinics, ask your Physiotherapist for more information or to have a fitting.
Author –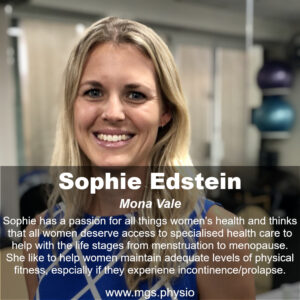 Sophie Edstein (MGS Mona Vale)
Sophie has a passion for all things women's health and thinks that all women deserve access to specialised health care to help with the life stages (from menstruation, through the pregnancy/postnatal phases all the way to the perimenopause/menopause journey)
She particularly loves keeping women active as it is so important for all women to maintain adequate levels of physical activity throughout life and too often it is found that incontinence/prolapse to be leading reasons why women withdraw from exercise.
Sophie is a mum of 1 (and a half), and comes from a sporting background and understands the huge benefits of physical activity
Click here to learn more about Sophie.