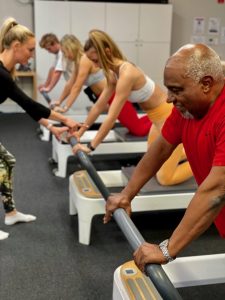 We are excited to announce the launch of our new Reformer Pilates Classes in Manly. This new service is both a stand-alone fitness and health program, as well as being an excellent progression from our existing physio led group exercise.
Reformer Pilates is a physical fitness programme for the whole body.  It aims to improve flexibility and joint mobility while at the same time improving your strength and agility. Reformer Pilates is a way to reduce the chance of injury from your favourite activities, allowing you to take on more demanding challenges and exercise. It does this by improving your core strength, your core endurance, your posture, and your physical wellbeing.  It feels good, it is fun to do, and it leaves you feeling like you have more control over your body.
Reformer Pilates simply means that we use reformer equipment for the classes.  Reformers are a bed-like apparatus invented specifically for Pilates.  They allow different resistances to be applied for different people and different exercises.  They provide for a greater variety of exercises as well as making some floor-based exercises easier for those new to Pilates or recovering from injury.
Small groups
Our classes have a maximum of 6 people in them and most have less.  This is essential for us to deliver the quality of care that we believe is essential.  We have a team of highly experienced and qualified instructors.  To derive maximum benefit from their skills, small class numbers are essential.  Individual guidance and direction are a vital part of Pilates instruction.  Ensuring that people perform exercises with correct form and without overextending themselves is vital to success and can only be achieved well with small groups.
MGS Reformer Pilates is for everyone
You can book and attend without ever having gone to Pilates before.  You do not need to have been a client of MGS Physio.
MGS Reformer Pilates is ideal for someone looking to improve their endurance, posture, core strength and fitness.  It is a great option for those who are increasing other exercise and wish to keep injuries away.  You may be returning from injury, a complete novice, or you may be very experienced with Pilates.  Our small class numbers allow us to guide you to the level appropriate for you.
Reformer Pilates or Physio led exercise?
We have been running small group physio led classes for many years.  These classes are designed for taking people from an injury recovery stage to a point where a return to non-rehab activity is possible.  They contain only 3 or 4 people, and exercises within these classes are specific to the individual and their recovery stage.  These programmes are constantly changed and re-evaluated by our physios as people improve and recover.  Participants will often be doing quite different things within the small group. Our Physios are skilled at setting correct and careful progression for various individuals and their conditions.  In the physio led groups you are following your own specific plan for your own circumstance while you all share the attention and care of the physio for the duration of the class.
In the reformer Pilates class, all members of the group will work on the same apparatus and do similar activities; however, the instructor will be able to set and guide the degree of difficulty appropriate for you.  Our instructors are extremely skilled at ensuring good technical form and therefore, optimal outcome from your exercise. They guide and instruct quality movement.
Simply put, reformer Pilates is for prevention and improvement while physio led classes are for recovery.
How to Book
Booking in is simple.  We use the Mindbody app for making appointments as well as for payments and receipts.  You do not need to do anything other than follow this link
and the steps it will take you through via the Mindbody links.  Reformer Pilates is only offered at our Manly location.
Pricing
We are offering an introductory special of $59 for three classes.  After that you can buy a 10 pack for $350 or a single class for $38.  Some health funds pay a rebate for this service.